SoundAntiques
(updated October, 2022)
Update for SoundAntiques:
Please Note. The studio is now once again open, but only strictly by appointment only. Maximum of 2 persons at any one time, and distancing will apply.
Special Clearance Sale of items from SoundPost, which is now closed, which includes instruments, cases, covers, bows, strings and accessories: You will be directed for this to Brian Cohen Violins: Click HERE
At SoundAntiques we offer a range of highly collectable, unusual and often very rare items: Many are suitable for museum collections, and many are fully playable, and would make superb additions to any specialist collection. Most are not restored, as we try to source and offer only items in original and 'museum quality' condition, but where needed sympathetic restoration may have been carried out, either 'in house' or using the very best specialists possible in their field.
We also sell traditional classical instruments, ie violins, violas, and celli, sometimes from our own stock or sometimes on consignment for other owners. We are a real 'bricks and mortar' shop, not a 'cyber-shop', so you can visit us, by appointment only, to view and try the instruments in person.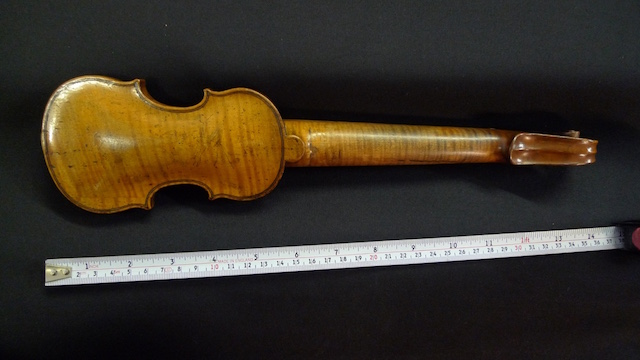 A rare and very small Dutch Pochette, (Dancing Master's Kit) attributed to Kuypers, circa 1670 (awaiting completion of conservation)
Not all instruments we stock are listed on the site however- so if you do not find exactly what you want, call and ask- we may well have an example, or know someone who has one to sell, or can source one for you. We are always pleased to discuss and advise.
Opening times and all contact details, directions etc. on our 'Contact' page.